We are thrilled to announce Carpenter & Paterson Ltd as our February 2021 Employer of the Month! Following a nomination from our Business Engagement Advisor,  Karen Harris-Vernon, Carpenter & Paterson Ltd were chosen as February's winners due to their investment and commitment to staff training and development.
A FEW WORDS FROM KAREN HARRIS-VERNON, BUSINESS ENGAGEMENT ADVISOR, ON CARPENTER & PATERSON LTD'S EMPLOYER OF THE MONTH NOMINATION…
The working relationship I have with Julie Mitten, the company HR Manager of Carpenter & Paterson Ltd (C&P) is a fairly new one but has become a very positive and productive one in a short time.
Since the beginning of November 2020, we have been in regular contact and Julie has been able to access support and funding help that she perhaps wasn't always readily aware of. Personal Learning Account funding has worked particularly well for C&P at a time when the need to work and upskill flexibly has never been so important.
She has a very enthusiastic manner and a hands-on approach to developing the team at C&P and her feedback that the workforce has responded well to this investment in them and their roles are very gratifying for her and for me.
Julie has focused her efforts on looking at skills that people can use to further their own accomplishments and she has also demonstrated her commitment to supporting others by leading the way on having mental health first aid training which is running this quarter and will be undertaking the course herself.
The college has maintained an existing good relationship with C&P including with our NPTC Group of Colleges Pathways team, but the last few months has seen the relationship really take off and I believe that Julie now considers the college as a trusted destination provider for all her training needs and somewhere she can turn to for advice and guidance on training and development.
This nomination is to thank you Julie for all the commitment, support and investment you are making in your people and to the College at a time when things are so unpredictable.
A FEW WORDS FROM CARPENTER & PATERSON ON THEIR EMPLOYER EXPERIENCE…
Carpenter & Paterson Ltd was established in the UK in 1956 and has since developed into one of the world's largest manufacturers of Pipe Suspension Equipment with facilities in the UK, Thailand and India.
We employ circa 120 and many of these employees have been with the company all of their working lives. We are now looking at succession planning and each year run an apprenticeship program. There has been little formal training provided in the past and we are pleased that we have been able to secure PLA funding for a number of courses.
We have a number of employees who have moved into positions of authority and they will be attending the ILM Level 3 course shortly. We are pleased that they are on board with the training as this will give them the tools to become C&P Supervisors/Team Leaders.
We also have candidates booked in for the Mental Health First Aid course, which is particularly important during these difficult times so that we are able to support our workforce.
Our Maintenance Assistant will be attending an 18th Edition course and an Electrical Testing course. This will benefit the company greatly as more work can be carried out internally rather than having to get external contractors in.
Thankfully we have remained busy during the pandemic and we are pleased that we have been able to access funding for training. Moving forward it is very important to us that we retain our staff and for those that are moving into different roles, provide them with the tools to do the job in the best way they can.
Our contact, Karen Harris-Vernon has been extremely helpful and we have found the process straightforward.
Julie Mitten (HR Manager at Carpenter & Paterson Ltd)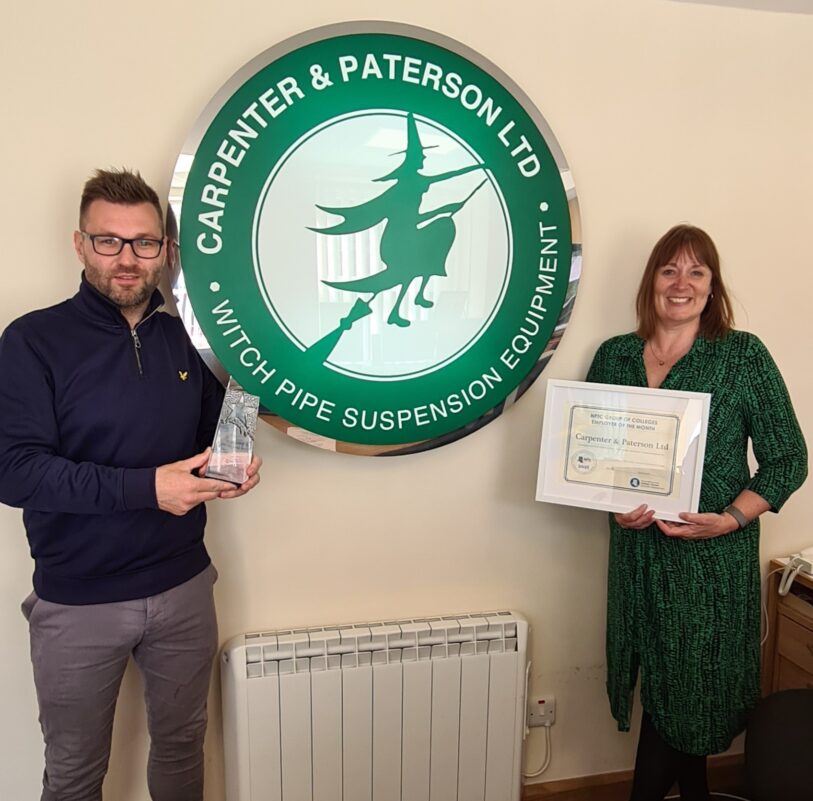 Unfortunately, we were unable to do a trophy and certificate handover in person due to the current ongoing pandemic, therefore, Carpenter & Paterson were kind enough to send a photograph in as well as have a Microsoft Teams congratulatory meeting!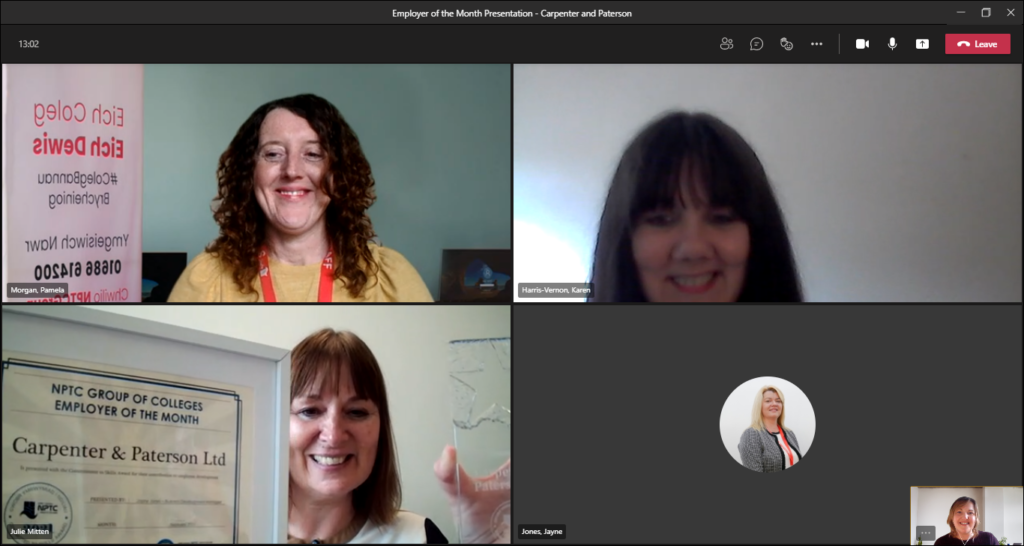 _________________________________________________________________________________________
The Employer of the Month award recognises our employers' commitment to people and skills development.
Each month, through our meetings and engagements with employers, we seek nominations and select a winner.
If you would be interested in becoming our Employer of the Month, please contact your Business Engagement Advisor or contact us at business@nptcgroup.ac.uk