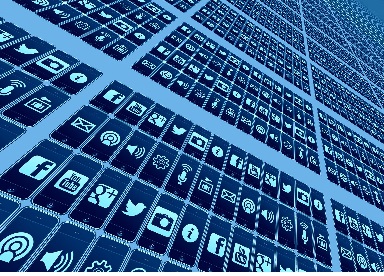 NPTC Group of College's Business Development Unit has increased their course offering by adding brand new digital marketing courses to their already varied and impressive course portfolio. These courses offer a foundation of digital marketing skills and tools to bring your business into the 21st century.
With technology now an everyday fixture in our lives along with a global pandemic where more of us were working remotely and glued to our screens, a good digital marketing strategy is now even more important than ever. The Office for National Statistics stated that as of 2020 46.6 million adults accounted for daily or almost every day usage of the internet, that's a 5% increase in just the last three years.
Digital marketing is all about talking to your audience and connecting over a product or service therefore with the evolving changes this now means having to talk to your audience where they are already spending a good portion of their day, on the internet and social platforms.
The brand new courses will be expanded upon to incorporate all the elements of digital marketing ranging from Social Media Marketing, Digital Analytics, Advertising, Content, Planning, Search Engine Optimisation and more.
These courses are aimed at all individuals who already work in marketing and wish to develop their skills, for those who are interested in a career in marketing and also for all business owners who are looking to develop their current in-house marketing or to delve into digital marketing as a new tool.
The courses available are:
Level 4 Award in Search Engine Marketing
Level 4 Award in Content Marketing
Level 4 Award in Digital Marketing Planning
Level 4 Award in Digital Advertising
Level 4 Award in Digital Analytics
Level 4 Award in Marketing Fundamentals
Level 4 Award in Social Media Marketing
Level 4 Award in The Essentials of Digital Marketing
Level 4 Award in Online Customer Experience
Level 4 Award in Email Marketing Essentials
With these courses, individuals can apply for the Level 4 Certificate in Digital Marketing or Level 4 Diploma in Digital Marketing when credits have been achieved from completing the digital marketing courses. The Diploma comprises of individuals achieving 40 credits (8 units) at Level 4. The Certificate comprises of 25 credits (5 units) at Level 4.
There is also a Digital Marketing – Creating and Managing CMS Websites course which is aimed at individuals who wish to develop their skills to build, manage and run a website by using WordPress and a Social Media for Business course, for individuals wanting to learn or develop their social media knowledge to benefit their business. These courses are separate from the Certificate in Digital Marketing or Diploma in Digital Marketing, upon completion of these two courses, learners will gain a Certificate of Completion.
Funding is also available for these courses through a Personal Learning Account. A Personal Learning Account (PLA) is a programme launched by the Welsh Government to access flexible part-time courses with the aim of obtaining the skills and qualifications you would need to change careers or to upskill within your current area of employment to access a wider range of job opportunities and/or gain employment at a higher level. To be eligible for a Personal Learning Account, certain criteria has to be met. Individuals will need to be over 19, living in Wales and not in full-time education. There is also specific PLA funding available for companies.
It doesn't matter if you're a digital marketing newbie or already have a grasp on digital marketing, these courses will allow you to learn the basics, build on your skills or successfully lead, plan and create marketing campaigns with courses designed by experts in the industry. For further information, please contact NPTC Group of Colleges' Business Development Team on business@nptcgroup.ac.uk