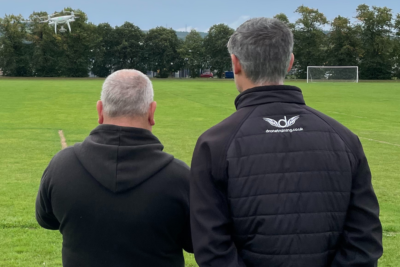 "A college instructor loved the Engineering Construction Industry Training Board's (ECITB) new drone course so much he went out and bought his own – and took it to Iceland to fly it over a volcano!
Julian Hoile, who works for NPTC Group of Colleges in Wales, believes the use of drones on industrial sites is "a huge step forward in engineering skills" and is urging the industry to embrace "the future" by signing up to the Foundation Unmanned Aircraft Systems (UAS) training course.
He was invited to attend the pilot programme of the ECITB's new course, which was created in close collaboration with the UK Drone Association, ARPAS-UK.
Following the success of the pilot programme, the ECITB launched the quality-assured training course for operating drones in industrial environments, with bookings now being taken by Approved Training Providers.
Global Drone Training delivered the week-long pilot programme at NPTC in south Wales, which was attended by staff from the college like Julian (pictured), as well as delegates from Sellafield and Network Rail.
The course, which involves a mixture of classroom work and practical flying, includes how to comply with site policies and procedures, and is assessed by a practical flight competence test, where operatives pilot a drone in a real environment and capture, store and share viable images.
Julian, who passed the course alongside college technician Levi Harris, says the course is ideal in taking people up to a consistent foundation level for flying drones on industrial sites."