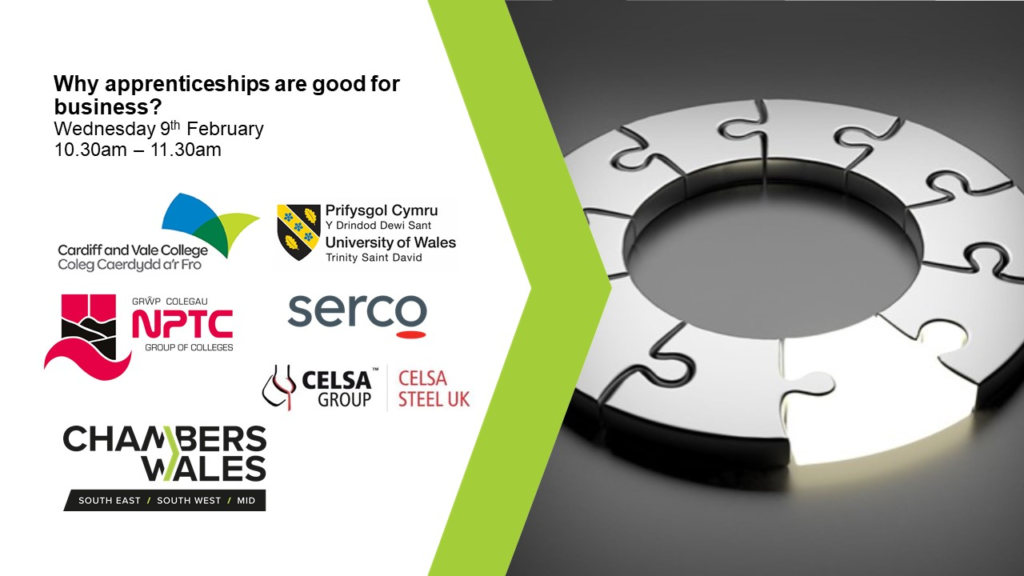 Chambers Wales is running a webinar on Wednesday 9th February 2022 to discuss the benefits of hiring an apprentice.
Hiring an apprentice is a productive and effective way to grow talent and develop a motivated, skilled and qualified workforce.
At a time where businesses are struggling to recruit skilled workers, an apprenticeship where employees learn as they work could be the solution.
Join us at this event to discover why your business could benefit from having an apprentice and how you could go about recruiting one.
The panel will discuss:
The benefits of hiring an apprentice
Opportunities available for businesses
Sustainable employment
Assisting the long term unemployed
The online discussion will be chaired by James Ellis, Head of HR at Celsa UK.
The panel are:
Alan Mackey, Head of Work based learning, Cardiff & Vale College
Nicola Thornton-Scott, Assistant Principal: Skills, NPTC Group of Colleges
David Elsmere, Partnership Manager, Restart – Serco
Bridget Moseley, Head of Apprenticeships – University of Wales Trinity Saint David
Time: 10.30am – 11.30am