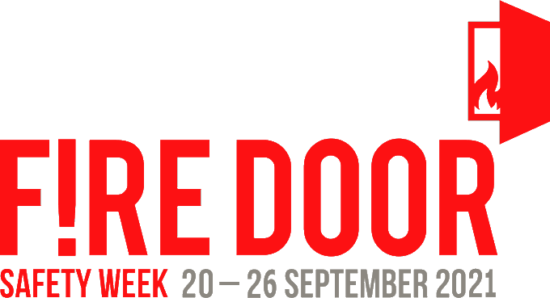 NPTC Group of Colleges is proud to once again support Fire Door Safety Week (20-26th September 2021).
Fire safety training needs to be of the highest standard and continually meet regulations, therefore, it's vital to have organisations, individuals and installers skilled to a high level and to acquire the vital competencies when it comes to fire safety.
At NPTC Group of Colleges, we are keen to offer the best training, qualifications and accreditations to our learners, therefore we have shaped and built partnerships with other industry leaders to make sure we are able to deliver exceptional courses. Therefore, as the only British Woodworking Federation (BWF) accredited provider in Wales, this brings confidence that NPTC Group of Colleges are offering the highest standard of training to all organisations, individuals and installers. BWF continue to commit to improving education, raising awareness and uphold standards when it comes to fire door safety and the College are incredibly proud to share this ethos and provide this training.
We continually work with numerous employers to upskill their staff and have worked closely with several businesses in Wales.  One of these businesses has given feedback on why they think it's so important to have competent staff fitting fire doors.
Pave Aways Building Contractors, which has offices in Newtown and Wrexham, hosted a two-day Fire Door Awareness course for five of its team during Fire Door Safety Week.
Managing Director Steven Owen said:  "It's imperative that our in-depth training for those that install, inspect and maintain fire doors are up to date when it comes to fire safety to meet the stringent regulations in place and our own high standards of construction excellence. The training was very comprehensive and has given the team an all-important refresher in the guidelines and practical skills they need."
By providing training as an accredited provider, NPTC Group of Colleges can teach vital skills from the ground up through Fire Door Awareness and Installing Fire Door training through the new Fire Academy. The Fire Academy is currently being developed to offer a one-stop conduit for fire training, through a collaborative partnership of recognised expertise and skills.
The current training offering includes Fire Door Awareness for Fitters, Fire Door Awareness for Supervisors and Managers and Installation and Maintenance of Fire-Resistant Timber Doors. These courses are there to provide recognition to individuals who have developed their knowledge and the competencies necessary to meet industry standards, whether a current installer or new.
Numerous events and campaign activities are being held throughout the week along with a free toolkit of resources to help landlords and their tenants with fire door safety advice.  For more information visit www.firedoorsafetyweek.co.uk