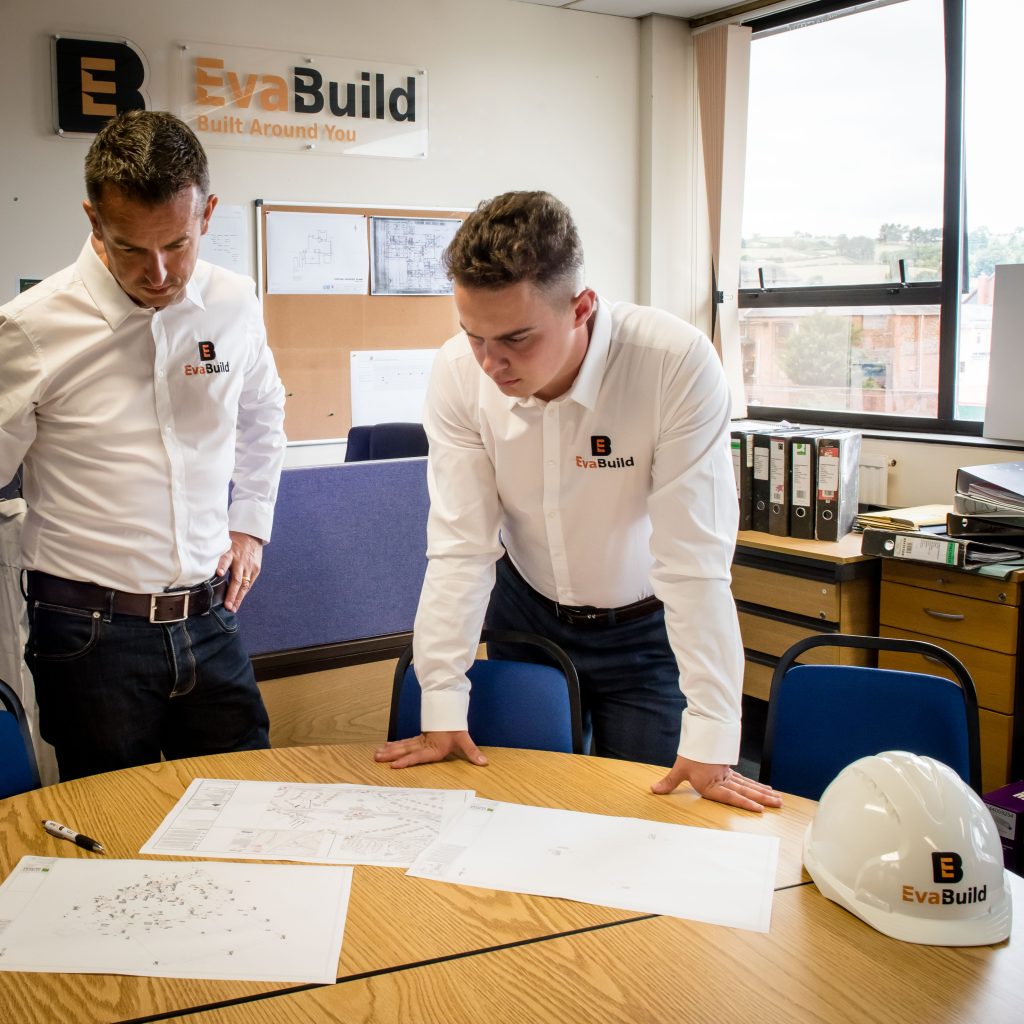 Newtown College has been working closely with local businesses to meet their training and upskilling needs, to help improve options for courses in the local area.
Contracting firm EvaBuild are just one of the businesses to have benefitted, with former College apprentice Danny Faulkes completing a project management apprenticeship and going on to become the company's Trainee Project Manager.
Newtown based EvaBuild were founded in 2011, specialising in services such as modular groundworks, civil engineering and general groundworks.
Danny's opportunity came after EvaBuild's Managing Director Nick Evans and the College worked together to see if a BTEC Level 3 Construction and Built Environment course could be introduced, as it didn't exist at the time.
Just one year later the course was delivered and Danny successfully rose through the apprenticeship scheme. Having experienced working in all divisions of the company, he has gone on to head up EvaBuild's quality management systems.
Danny is delighted with how things have gone so far and said: "I chose an apprenticeship over other options because I wanted to carry on learning, but also gain hands on experience.
"At the time I was not 100% sure on what area of construction I wanted to do, so when Newtown College started running the Construction & Built Environment course I knew that it would be right for me, as it kept my options open and allowed me to see what aspect of construction I enjoyed most.
My apprenticeship at EvaBuild was great and I now head up the quality management systems, so it turned out to be a great learning curve for me."
Nick and EvaBuild are hoping to continue working with the college to introduce more upskilling courses in the local area, believing more businesses should follow suit.
He said: "Working with the college has been great for us and for Danny, but other businesses need to support the initiative as well.
"It has proved that colleges and businesses need to work together to see what both need in the area.
"The benefit is two way, the business obviously and then there's a clear pathway for school leavers that are given the support they need.
"Construction and groundworks are very hands on and there needs to be a clear strategy with these kinds of courses in place."
With Danny a prime example of the success school leavers can have by staying in the Mid Wales area and completing apprenticeships, Nick believes more should be done to ensure the career path is seen as an equal opportunity with other academic routes.
He said: "Danny has been a huge asset for us, a stereotypical model apprentice, enjoyed the courses and he came to us at 16 and said he wanted to earn while he learned and wasn't interested in the A level route.
"It needs to be the mind-set from both parents and school leavers that apprenticeships are seen as equal to A-levels and beyond.
"Apprenticeships are still often seen as a default choice for those who might have not done as well as they had hoped in their exams, or used as a fall-back.
"But using Danny as an example, students are currently coming out of university with high amounts of debt and often information learnt that is not applicable to the workplace.
"In comparison, Danny has had five years of learning and is 21 – the same age students will be coming out with their degrees.
"He is already financially and knowledge wise a more attractive option to us, as he has real life experience in the workplace which is what employers are primarily looking for.
"We would be more likely to employ someone like Danny who has that experience, over a student who won't have the same background.
"The big message is to promote apprenticeships to the point where they are rightly seen as an equal and more attractive form of education."