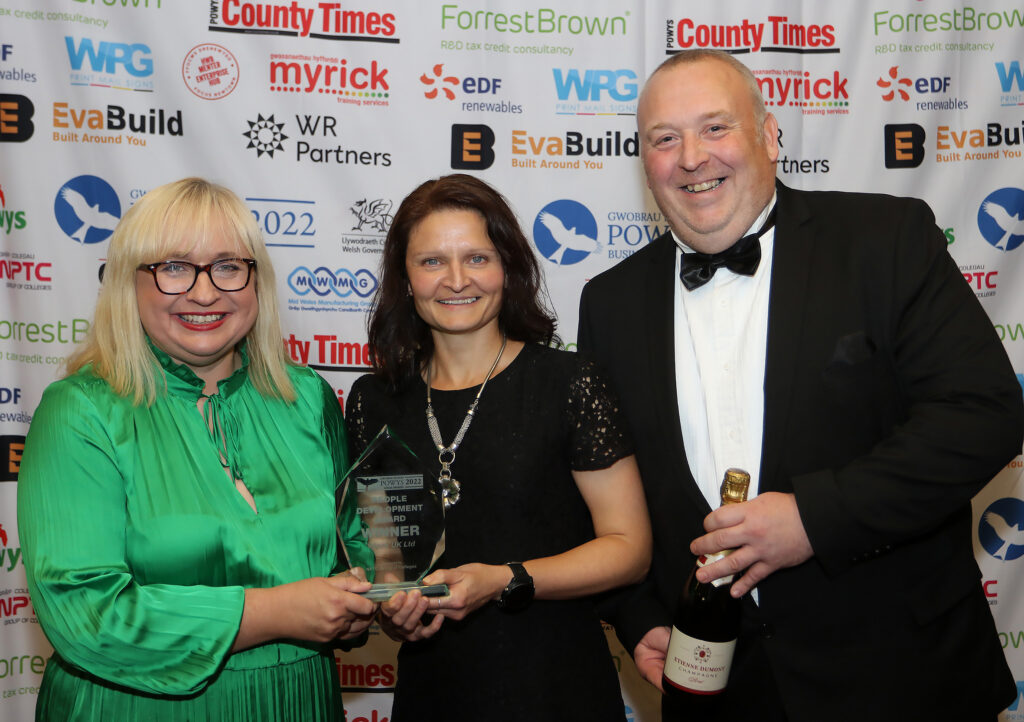 Picture caption: Wipak UK Ltd's Managing Director Andrew Newbold and Human Resources Manager Clare Hanson receive the People Development Award from Catherine Lewis, Acting Chief Executive and Principal of NPTC Group of Colleges, Sponsor.
Wipak UK Ltd says its workforce is playing a key role in its mission to become the most sustainable flexible packaging supplier in the world and achieve carbon neutrality by 2025.
The Welshpool-based company makes sophisticated, high barrier packaging films for preserving and protecting food products. The business has a turnover approaching £30 million, 107 employees and plans to create another 50 jobs in the coming years following £5 million investment in state-of-the-art machinery.
Following a comprehensive training programme for operators on the new machines, several exciting new products have been developed, including an advanced, low carbon footprint, aluminium butter wrap for a new market.
Wipak UK has pledged to support its people and help them to unlock their full potential, whilst also prioritising the safety and wellbeing of every individual. Having already achieved Investors in People Silver Accreditation in 2019, the company is going for Gold Accreditation later this year.
The company's commitment to its workforce was recognised at the Powys Business Awards 2022 where Wipak UK was named Powys Business of the Year, an award sponsored by Powys County Council.
Wipak UK also won the People Development Award, sponsored by NPTC Group of Colleges, at the annual awards ceremony held at Dering Lines, Brecon on Friday night.
Managing director Andrew Newbold said: "I am really pleased that the judges recognised our employees' commitment to personal development and continued education.
"Not everybody realises their potential in traditional education settings but, as we see with lots of our employees, that is not a barrier to excelling in business. That's why it's important that everybody gets an opportunity to learn. This award is recognition for them."
Showcasing the diverse range of successful enterprises in the county, Powys Business Awards are organised by Mid Wales Manufacturing Group (MWMG) with support from sponsors.
Established in 1976, Wipak UK is a market leader thanks to its continued investment in manufacturing capability, new product development, service culture and focus on growing its own talent through training and personal development programmes.
Fundamental to supporting the five-year growth plan, the Professional Pathways qualification was launched in January last year and 24 employees have completed it, 12 are currently enrolled and 10 will be starting later this year.
Powys Business Awards judges said they were impressed by the company's bold strategy and pledge to unlock their employees' full potential. "The company places great emphasis on developing its own, with a range of ongoing training and development opportunities which are making a positive contribution to business objectives," they added.