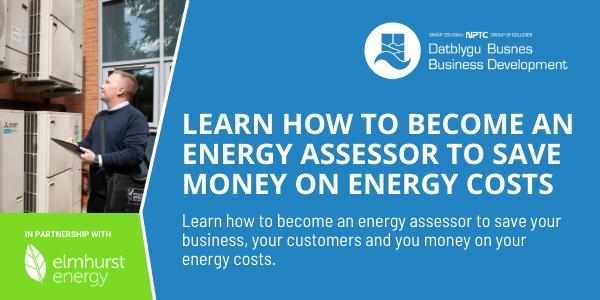 Learn how to become an energy assessor to save your business, your customers and you money on your energy costs.
We are working in partnership with Elmhurst Energy to provide accredited training to those who are looking to become energy assessors. We can help you to access the skills and training you need to begin providing energy assessments to expand your existing profession or build a brand new career.
If you're thinking about starting a new career or you're interested in working within the sustainability industry where you can make a difference, a career as an Energy Assessor may be for you.
We are running a lunch & learn virtual event with Elmhurst Energy on 2nd March 2022 from 1pm to 2pm to discuss the benefits of becoming an energy assessor with training available to become a Domestic Energy Assessor (DEA) or Non-Domestic Energy Assessor (NDEA).
An energy assessor specialises in providing energy assessments for a particular type of building: either residential (domestic) buildings, commercial (non-domestic) buildings or new build properties. Training is fully funded, subject to eligibility and we'll be on hand to discuss this during the virtual event. Elmhurst Energy will be discussing the training opportunities in detail. We will be discussing the funding options and how to enrol on the course.
What is an Energy Assessor and Why is there Increased Demand?
There are approximately 15,000 energy assessors working across the UK yet there is an increasing demand for energy professionals as the current regulations state that all properties in the UK must have a valid EPC before being sold or let. To meet the Government's target of being net-zero by 2050, the industry needs an estimated 500,000 new professionals and tradespeople to tackle this challenge. This also includes upskilling existing workforces. We want to support the industry by providing funded training and accreditation for eligible energy assessors and individuals new to the industry.
This is an area with increasing demand and requires no previous experience and assessors can become qualified in as many strands as they want (Domestic/Residential, Non-Domestic/Public Buildings or On-Construction/New Build Properties), further increasing their earning potential.
Benefits of being an Energy Assessor
Can be employed by organisations or work for themselves
Self-employed energy assessors enjoy the flexibility the work provides
Supplement your existing income, or build a completely new business
Work can be completed at your leisure, as long as there is daylight
Existing property professionals can expand their existing skillset to include the provision of energy assessments
Speaker on the day:
Josh Wakeling, Head of Operations for Elmhurst Energy
This is a growing field, and with our help, you can be at the forefront of the movement towards a sustainable future. If you have any questions, please do not hesitate to contact us at business@nptcgroup.ac.uk or visit our website. For further information about Elmhurst Energy, please click here.
Click here to register for the event
Joining instructions will be sent out to all attendees a few days before the event is set to go ahead.