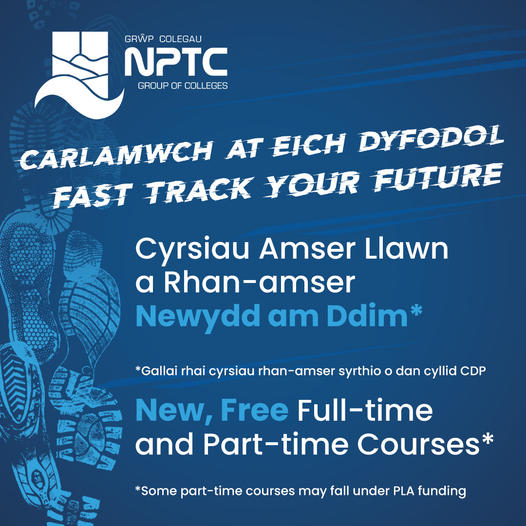 New for 2022, fast track your future with NPTC Group of Colleges.
We have a variety of full-time and part-time courses starting in January that will help you to get your education back on track, upskill or progress at work, or even start on the path to your dream career.
We have courses for everyone, including several full-time 'Fast Track Your Future' courses that will help you get back into education. You may also be thinking of changing direction and our new courses have been designed so you can sample several areas and see what path you prefer. You can then be sure you are ready to progress in September 2022.
We also have many part-time courses that can enhance job prospects or kick-start
a brand-new career in many sectors, especially those where there are skills shortages. You'll be able to gain new skills and qualifications, that local employers need, to help you progress or to change careers altogether. Our flexible courses run throughout the year, with small class sizes offering one-to-one support.
All our January course starts are completely free* and you can apply online now!
What are you waiting for? #BeYourFuture at NPTC Group of Colleges.
Here's how to get started:
1. Have a browse through all our available January
courses
Neath/Port Talbot, Swansea, Maesteg
2. Click on one of the images below and search for the course of your choice to begin your journey to NPTC Group of Colleges.
*Some part-time courses may fall under PLA funding.