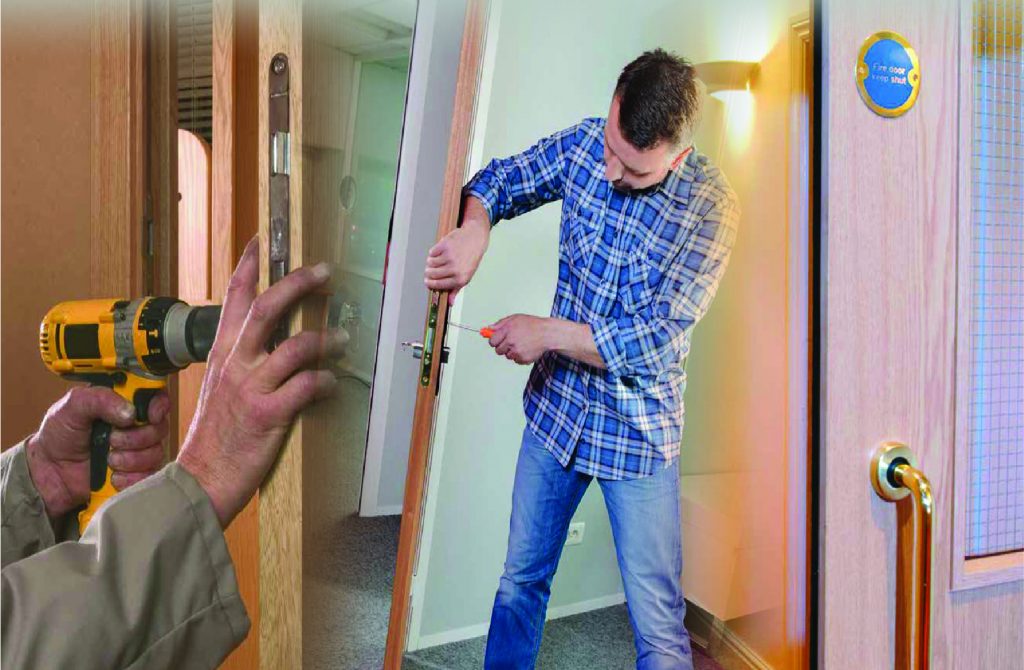 How NPTC Group of Colleges are supporting social housing companies to fill skill gaps and create a workforce for the future.
As proud supporters of the recent Fire Door Safety Week campaign which focuses on the critical role fire doors play in protecting us, we spoke to two Registered Social Landlords (RSLs) based in Wales who have provided feedback on the importance of in-house staff training and skills development, especially when it comes to fire safety and having fully trained employees fitting fire doors.
We currently run, in partnership with the British Woodworking Federation (BWF), training on the correct Installation and Maintenance of Fire Resistant Timber Doors.  Since last May we have worked with numerous employers to upskill their staff and have worked closely with several RSLs in Wales. Two of those RSLs have given feedback on why they think it's so important to have competent staff fitting fire doors and how it's been beneficial to them to train in-house.
Jaime Greig, Tai Tarian's Senior Operations Officer, said: "Fire safety is something Tai Tarian takes seriously and has invested heavily over the last few years on upgrading its communal areas within our blocks of flats as well as full refurbishments of its Haven Housing (Independent Living Accommodation for over 55's) – this has included fitting upgraded fire doors to the flats themselves as well as cross corridor fire doors.
This left us with a skills gap as our in house carpenters were not trained to the current regulations set by industry to undertake maintenance work on the doors that had been installed, and we did not want be sub-contract this work to retain better control of standard and response time.
By working with NPTC Group of Colleges we were able to provide training for a team of carpenters to upskill and undertake the maintenance work on our doors that also allows the organisation to make savings, as our planners can co-ordinate other work to be undertaken whilst at the premises to improve productivity and reduce our carbon footprint."
Andy Styles, Bron Afon's Planned Services Manager, said: "We've got a talented team of trade staff and we are always looking to develop their skills. Fire safety is a priority for us so when we saw this training we jumped at the chance. It has meant our staff have the expertise to fit fire doors to the highest possible standard to ensure they provide the most protection in the event of a fire. Feedback from the staff who did the course earlier this year was really good. They got a lot out of the training and were able to immediately put what they learnt into practice."
As well as our Installation and Maintenance of Fire Resistant Timber Doors course, we also offer Fire Sprinkler Installation and Maintenance Level 2 and Level 3. We have recently introduced the Experienced Worker Route for the Level 2 qualification to enable them to complete this in a shorter period of time. These courses are there to provide recognition to individuals to develop knowledge and the competencies necessary to meet industry standards, whether a current installer or new.
By utilising in-house training and development of your employee's skills, you're not just investing in your employees, but also your business. Advantages include employees having up-to-date skillsets which meet regulations, increased morale and improved staff retention, there is also the advantage of not having to outsource specific tasks/jobs.
NPTC Group of Colleges has a dedicated Business Development Unit with highly knowledgeable Business Engagement Advisors, currently working closely with businesses to provide support and information on developing the skills of workforces as well as available funding.