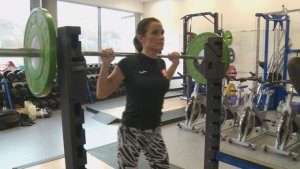 Hi! My name is Lindsay, and I am the Senior Officer for Physical Activity, Health & Wellbeing. That's not a very snappy job title, so we have come up with a new name: NPTC Get Active! Get Active!, a go-to hub for students and staff across NPTC Group of Colleges, where you can find out about our latest initiatives and events promoting physical activity, health,  and wellbeing.
The Get Active! the team is made up of myself Lindsay Piper, Jonathan Nash at Brecon Beacons College and Helen Owen at Newtown.
Research shows that physical activity can boost self-esteem, mood, improve concentration levels, sleep quality and energy, as well as reduce the risk of stress, depression, heart disease, and Alzheimer's disease.
Our mission at NPTC Get Active! is to provide opportunities for our students and staff to engage in 30 minutes of physical activity, 5 days a week, to optimise the endless list of health benefits that exercise provides.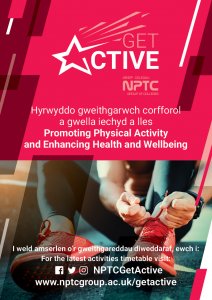 A lot of our work focuses on engaging with specific student groups during tutorial sessions. Encouragement from staff to approach us with suggestions on the kinds of activities their groups would like to become involved with is recommended.
We are always open to new suggestions and ideas! We will try our very best to tailor sessions to the needs of the group.
NPTC Get Active! is a solid long-term solution to enhancing health and wellbeing, rather than an instant fix.
Currently, the NPTC Get Active! is already increasing awareness and changing mindsets with tutor groups.
As a result, we are already making a positive impact and certainly heading in the right direction!
We will soon be delivering a schedule of open classes across all campuses for both students and staff to participate in if they wish to. There are some classes already running;
Functional Fitness at Llandarcy Academy of Sport at 1 pm on Wednesday's
Netball at Neath College on Fridays at 12 pm.
In addition, there's rugby training (girls and boys) in Llandarcy on Wednesdays, and sessions in Brecon and Newtown Colleges, but these could change regularly.
The best way to keep up to date with what's going on is by following @NPTCGetActive on Twitter, & www.facebook.com/NPTCGetActive on Facebook and Instagram.
Right now, we are introducing Get Active to people, to explain what we do, what we can do for people, and how people can get hold of us. You can email me at lindsay.piper@nptcgroup.ac.uk or call me on 01639 648722; Jonathan Nash: jonathan.nash@nptcgroup.ac.uk and Helen Owen: helen.owen@nptcgroup.ac.uk 
We are on social media quite a lot – @NPTCGetActive on Facebook, Twitter, and Instagram. If you would like to find out about getting involved, whether you are a student or a staff member, get in touch! We are also really keen to speak to those of you who would like to gain experience in volunteering and delivering activities, or even coaching qualifications.
We are launching Get Active! initially to raise awareness of the physical activity sessions you can get involved in. Once more students know what Get Active is about, we will arrange more open sessions as demand increases … and a bigger schedule as a result! So watch this space 😉
Lindsay